Whether you already call sunny California home or you will be soon, one of the key pieces to moving is selling your current home. Showing after showing awaits you, but before you open your home to potential buyers, you need to make sure you and your pooch are ready. For example, do you have a plan for Fido to be out of the home during showings? If you can't spend the day with him yourself, it's a good idea to make a plan with a dog walker or doggy day care so you don't find yourself scrambling at the last minute. The tips in this infographic will walk you through other helpful suggestions to sell your home no matter how many paws are running around.
Once the move is complete, you and your dog can enjoy all that San Francisco has to offer starting with the gorgeous views of the city at Kite Hill or the surf and sand at Lands End Beach. Spend the day at Fort Funston and hike down to the beach to make a few doggy friends – you might even catch sight of a hang-glider or two. San Francisco is very dog-friendly, and the two of you will never run out of fun things to do.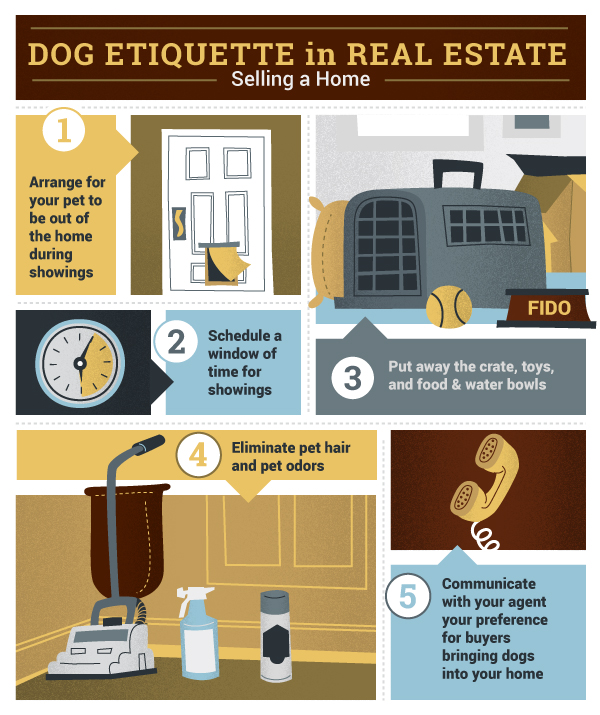 For more information:
1.Visit rover.com to find a place to board your dog
2.Visit thebalance.com for expectations on scheduling showings
3.Visit bhg.com for other tips on decluttering
4.Visit getridofthings.com for tips on eliminating pet odors
5.Visit realtor.com to find more things you should be talking to your realtor about
Selling your home might seem a little overwhelming at times, but once everything is said and done, you and your pooch can both breathe a sigh of relief and relax. Look ahead to the future and your remind yourself that a move is an opportunity for exciting new adventures – California certainly won't disappoint.
 Thanks to Medina at dogetiquette.info for this article.